Eva Yoo cycles around half the globe - her journey took her from Seoul (Korea) to London (UK)
CYCLING FROM SEOUL TO LONDON
Adventures of Korean girl Eva Yoo cycling on the Silk Road

ready to roll
Short introduction of Eva Yoo:
Chaewon Yoo, Korea
writer /// previous reporter at Chinese tech media outlet TechNode
As we are speaking she is movin to Berlin. Her philosophy is changing locations every 5 years!
You can access her Korean Blog via blog.naver.com/lime64

2012년 01월 - 2020년 04월 (as for now - 06.04.2020 this is her last entry)
Eva Yoo blogger and cyclist has got the patience and bravery to go on long journeys!
The Seoul-London trip has a webpage, where you can check her memoirs about the adventure:
www.seekroad.co
She has also written a book about the experience:
"유라시아 일주 자전거편지" (Cycling along the silk road, and the letters on the way)
Please check out the Interview article with The Nanjinger titled
Cold Turkey; Reflections of Young Korean Shanghai-London Cyclist
By Renée Gray Beaumont 14th November 2018_
A young Korean girl setting off from Shanghai on a bicycle bound for Europe is not an everyday occurrence. As she hit the halfway point, it seems appropriate for The Nanjinger to catch up with her again, tracking her progress and keeping up with her adventures along the way.
We first interviewed global cyclist and founder of SeekRoad Ltd., Chaewon Yoo, when she arrived in Nanjing after kicking off her 10-month long trip from Shanghai at the beginning of June this year. It was at a tech meeting that she was hosting in Nanjing's Xianlin area that I met her for the first time._
Full article HERE
SEEK ROAD - OFFICIAL YOUTUBE CHANEL
https://www.youtube.com/channel/UCArwIZ7hLEv4uLl3L4eD2CA?view_as=subscriber

her webpage

promo cover
# The Moment I reached London On 26th of January, 2019 I reached London.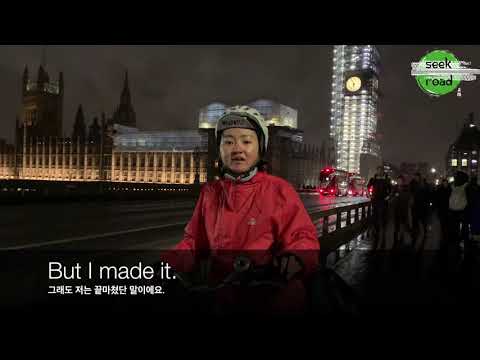 Picture sources: www.seekroad.co, thenanjinger.com