Masters Of Reality: Sunrise On The Sufferbus - ALBUM COVER 1992
Masters Of Reality: Sunrise On The Sufferbus - Album Of The Week Club review
Remember that time Ginger Baker joined stoner rock pioneers Masters Of Reality?
By Classic Rock October 15, 2019
_Masters Of Reality had pretty much invented stoner rock with their 1988 debut Blue Garden, and founder Chris Goss would go on to become one of the most influential figures in the genre, producing both Kyuss and Queens of the Stone Age in the years that followed.
The band's second album, Sunrise On The Sufferbus, was perhaps most noticeable for featuring a drummer who'd made his name more than two decades earlier on the other side of the pond: former Graham Bond Organisation, Cream and Blind Faith man Ginger Baker. _
Full article: https://www.loudersound.com/reviews/masters-of-reality-sunrise-on-the-sufferbus-album-of-the-week-club-review
EPILOGUE:
Masters of Reality is an American rock band formed in 1981 by frontman Chris Goss and guitarist Tim Harrington in Syracuse, New York, United States. They took the name for the band from a misprinted label of the third Black Sabbath album. - Wikipédia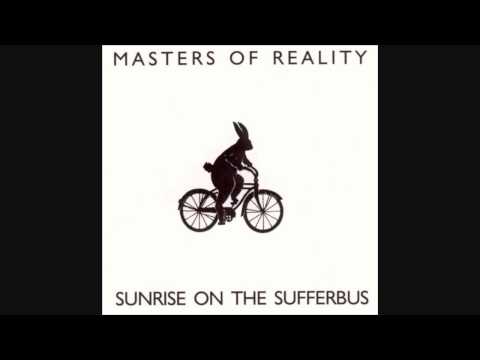 By the way there's a short song on this album / Masters Of Reality - "Bicycle"